Rafting Daytrip
Adresse: Heidalsvegen 829, 2677 Nedre Heidal
Karte anzeigen
Adresse: Heidalsvegen 829, 2677 Nedre Heidal

Nok 1.060,- per person
This is why the Sjoa River has become famous all over the world – and absolutely our most popular rafting trip!
White water rafting on the Sjoa River has become world famous, and this is the reason why!
This trip will take you through a picturesque and peaceful environment, narrow canyons and wildly exciting rapids such as "Golfstrømmen", "Hey stacks", "Bye Bye Baby", "Faukstad drop" and many more. In total we raft about 15-18 km, depending on the water level.
We end this lively and sensational trip with a hot lunch and a warm shower at our base.

Age limit: Must turn 15 by the end of the year
Starting time: Kl 10.00
Total time: Ca 5 hours
Mehr anzeigen
Über diese Aktivität
Telefonnummer Reservierung

Email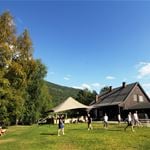 Jugendherbergen & Pensionen
Entfernung: 0 Meter
At our base we have big rooms that you can stay in which overlook the beautiful Sjoa River.